Quality Ford Auto Parts at Tasca Ford Cranston:
Proudly Serving Providence and Warwick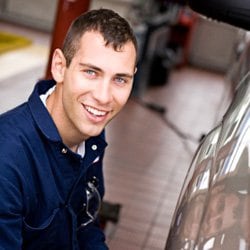 At Tasca Ford Cranston, we're passionate about ensuring our customers' vehicles are always running smoothly, which is why we proudly offer the best quality auto parts and accessories on the market. Our dealership serves the greater Providence area, including surrounding cities like Cranston, Providence and Warwick by offering auto parts and accessories that come directly from the manufacturer.
Choosing to buy genuine auto parts from us versus another cheaper, alternative source will always yield the best results. Genuine, quality auto parts will outlast a cheaper choice, and allow your vehicle to function smoothly and safely. You'll drive with confidence knowing that your vehicle is operating with the part it was originally designed to operate with, not another part that might fail sooner.
Whether you need a new muffler, new brake pads, new wiper blades, new tires, a new door handle, an engine part, or any kind of Ford accessory, we've got you covered. Whatever we don't have right here at our parts center, we can easily and quickly order it for you from the manufacturer. Some of our customers prefer to perform the installation of parts themselves, but we also offer the expertise of our technicians if you'd like some assistance.
If you have a particular part or accessory your vehicle is in need of, please inquire right here on our website, call our parts center or stop by and speak with a team member. We're on standby to ensure you receive any and all of the parts your vehicle needs to run as smoothly as possible.